Search Death Notices
Email Alerts
Worried about missing a friend's funeral? Don't be!
Our Email Alerts system means that if you register a name with us, we will send you a message if it appears on our website.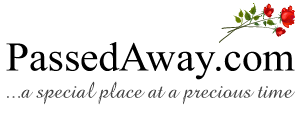 Please Select A Country
By selecting a country it allows us to deliver information relevant to your location.
Sorry, but PassedAway has not yet launched in your area. If you are interested in working with us, please contact us at partners@passedaway.com